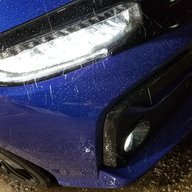 First Name

Deric
Joined

Dec 31, 2019
Messages
Reaction score

75
Location
Car(s)

2020 Honda civic Si sedan, 2016 Honda civic Ex
Vehicle Showcase

Hey guys, I just received my 2020 civic SI sedan on the 20th of December. Its a beauty. I broke it in within 52 hours lol.(In-town miles)
So, for the past 3-4 days I have noticed my turbo only producing about 12-14 psi in 2nd gear and up, when at full throttle. When I give it no more than 75% or even 80% throttle I see 16-17 psi all day. I can feel a slight power difference between all or partial throttle. I have not modded anything on the car except switching out the stock intake panel filter for a K&N. Immediately after this I felt a surprisingly more sensitive throttle. I took it to the dealer yesterday after giving up on the whole self research thing for this issue since its so new with no results. They test drove the car and said it seemed fine for them.. and for some reason it was actually pushing 15-16 psi. ... so of course when trying to show the dealership my problems it wants to act right.... or maybe he wasn't putting his foot in it all the way. That day it was about 70 degrees out side and a little humid.

It's almost like the car is governing how much horse power its allowed to make and when it hits that mark its down tuning the turbo. The car isn't running choppy one bit. I've never heard of any stock car governing horse power before and if this is a thing .... bye bye warranty, hello k-tuner v2

Any help at all would be greatly appreciated.

Thank you.
Last edited: