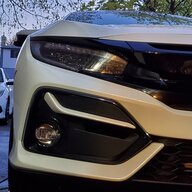 Joined

Jul 17, 2016
Messages
Reaction score

59
Location
Website
Car(s)

2001 CW ITR, 2020 FC3, 2016 FC4

Tire noise has been my biggest issue so far with my 2016 Coupe. Just a little feedback, since a few people have been getting caught out with purchasing loud tires, including me
Stock: 16" Firestone FT140
- Very Loud from new
- Continental 16" Pure Contact much quiter.
- Michelins 16" X-ice 3 I would say is much quieter than the FT140, but a little louder than the Pure Contact
Aftermarket: 245/40/18 Dunlop DZ102 vs 245/40/18 Toyo Proxes 4s
- DZ102 tons of grip, ride is good, but LOUD
- Louder than the 16" FT140
- Proxes, less grip but expected as they are not in the same class. Slightly comfortable than the DZ102, and I would say 30% quieter than the DZ102.
- Proxies quieter than FT140, and about as loud as the X-Ice 3...maaaybe slightly quieter than the X-ice 3
- Proxes was on a 5 series, now the 5 series now has 19" Michelin Pilot Sport 4s (245/40/19 and 275/35/19) and are much quieter than the Toyo.
Hope this helps other from picking a super loud tire. Down the road I will swap to the PS4s as well.
Everyone feel free to post your tires experiences as well. Would be nice to have a proper Tire noise feedback thread.
View attachment 37842
Last edited: