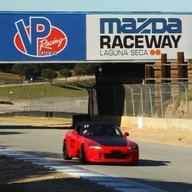 First Name

Tyler
Joined

Apr 27, 2019
Messages
Reaction score

1
Location
Car(s)

2019 Civic Hatch, 2007 S2K, 2006 Acura MDX, 2005 Mini R53, 1965 Ford Mustang

This is my first post on this forum so bear with me. Oh, and fair warning: I used to hate Hondas and Honda people. I grew up on Mitsubishis and Nissans and always enjoyed driving something that wasn't as common as the Civics and Corollas of the world. I didn't understand the Civic hype and it drove me crazy when people would say: "I've seen Civics gap Ferraris by 6 cars." Then I got married.
My wife got her silver value package Civic brand new in 2004. Naturally, neither my Mitsu or my Nissan (specific makes shall be hidden for the sake of my latter-reputation) made it past a few years into our marriage and I was forced to drive this plain, bland, boring, ugly (IMO), roll-up-window econo-box. Through all of my other projects (Impreza, Cherokee, Corolla, Ranger, I have a problem), the true reliability and versatility of the ES2 shined brighter and brighter. 170k miles and one family member desperately in need of a dependable car later, we found ourselves in need of a commuter replacement for myself. We were going to hang on to that thing till the wheels fell off and I found myself, for some reason that I have yet to be able to explain with real words, aching just thinking about letting it go. What in the world is so special? I thought I hated this thing?
48 hours later, I was driving home in a brand spankin' new 19 hatch sport in SGP. Guys (and gals), I don't know why I was such a hater. All I can say is that as long as I'm commuting more than 5 miles a day, I'll be driving Civics till I die...
Last edited: