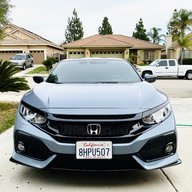 Joined

Mar 17, 2019
Messages
Reaction score

204
Location
Car(s)

2019 Civic Hatchback Sport CVT

Decided to start this journal to track my progress with my Civic and wax all sorts of poetic on my experience with it. If you're building your car, maybe this can be a helpful resource for you. If you're anything like me, maybe you just like seeing the work people put into their vehicles. Either way, welcome and enjoy.
Why a Honda Civic?
As the lease was approaching to an end on my 2016 RAV4, I was in the market for a new car. I found that I had grown tired of driving small SUVs for the sake of family hauling and dealing with midwestern winters. I moved to California and didn't need another AWD 5 passenger for navigating icy roads and seasonal depression. Now I could focus on getting something I actually wanted, but what would that even be?
I've personally always like smaller import cars, especially hatchbacks and tourers. I just love rally inspired cars. I've always loved WRX hatches, but Subaru doesn't make them any more and buying a used one? Eh, likely more trouble than it's worth. I looked at other things; Lancer Ralliart Sportback? Couldn't find them. Audi A3 Sportback? Time with my wife's BMW E46 has taught me to be wary of used German cars in this segment. I finally landed on the Civic hatchback. I always liked the 10th gen design and the more I researched the more I realized they checked al the boxes for me - roomy, reliable, fuel efficient, good power for the class, and most importantly not a Corolla.
I test drove one and it was a done deal.
Why Modify It?
I've always wanted to modify a car of my own. It's something I haven't been able to do since my buddy and I worked on his 86 Trans Am back when I was younger, and that was mainly just something for shits and giggles. Since the Civic had a huge amount of aftermarket support, that factor weighed heavily in my decision to buy it. I felt like the Sport hatchback was the best platform to start with. It had the looks and came in a 6MT.
(They were sold out of the 6MT and I literally bought the last Sport CVT they had in Sonic Gray Pearl. Oh well.)
My overall goals for mods would depend on my experience driving the car. I definitely didn't want to go full rice or race as I'm 37 years old and mainly just need to get to work. I drive 100 miles a day and I just want it to be engaging. I guess I wanted to build a "super commuter". I decided to drive the car for awhile and make notes of what I liked and didn't like.
The Good:
Power delivery felt good.
Handling was responsive and direct.
CVT wasn't sluggish like in other cars. Yamaha knows how to build them.
The Bad:
Cornering was horrendous due to bad body roll.
Acceleration needed some improvement, as much as the CVT allows.
Needed improved stability at high speeds.
Super quiet exhaust.
With all this in mind I decided to modify to improve the flaws and make what is already good even better. As far as aesthetics, I wanted to keep a factory-ish look, basically a toned down Type R.
Performance Modifications
To address the stuff I didn't like, I went with the following mods:
Sirimoto RSB
Honda Accord end links
Cold Air Intake
Straight piped exhaust
CTR subframe brace
18x8.5 +35 offset Avid1 wheels
Results: These mods made huge differences, but by far the best combo was the RSB and subframe brace. The body roll reduced a ton and my car could now carve up corners with the best of them. This was the most important thing to address for me. The Accord end links were added because I didn't think the plastic ones on the Civic would be fit to take the added stress. The stock suspension actually feels really good on this set up. I don't feel an urgent need to change.
For a CAI I decided to go a cheap route. At then end of the day, an intake is just a tube and filter. What matters is the MAF size. I went with some cheap aluminum tubes I found on eBay and the biggest K&N cone filter I could fit. The resulted were pretty damn good. The turbo feels like it spools a bit faster and butt dyno tells me power at 4000-5500 RPM improved. As expected, fuel economy took a hit.
Thankfully, straight piping the exhaust improved the fuel economy back to stock levels and yanked a good deal of weight off the car. The exhaust sounds great ripping, but the drone at 1500-2000 RPM kinda sucks. Still looking to solve this with a new resonator. Overall, the car felt zippier after doing the exhaust. Acceleration improved again.
The wheels, man, I struggle on how to feel. The Avids are for sure a great wheel for the price. They ride smooth and dropped another 42 pounds off the car. But, I feel going wider and with an aggressive offset robbed the car of some character. I can go 100+ MPH and not only is the car planted, but it turns! However, I don't have the same steering/cornering feel due to increased scrub. My car is almost too well mannered in regards to handling. It feels like a luxury sedan instead of a sporty hatch.
On a plus side, I'm now running 0-60 times in 6.7s to 6.9s, which is a nice improvement over the 7.3s at stock. I recently raced a Fiesta ST which has a similar 0-60 time and it was neck and neck. Getting that kind of performance on a mostly stock set-up has been really awesome and better than anything I expected. I'm still on the stock tires, so there's still room to improve.
Cosmetic Modifications
Most of these are pretty obvious but I'll list them out:
CTR replica spoiler
Smoked side markers
Mesh performance grille
Black Honda logo emblems
LED heads/fogs
5% tint all around
Faux carbon fiber mirror caps
Aforementioned wheels
I'm super happy with the look of my car. It's pretty much exactly what I set out to do. It has that factory feeling I was going for it, looks like it came from Honda this way. Aside from adding a front lip, she's pretty much done on the outside. My attention will turn to the inside now.
Future Plans
There's still a few performance things I want to address, but most are maintenance items (brakes, tires, etc.) so I'll address those as replacement work. I do plan on swapping to SI springs. New ignition coils are in the mail. They're an overlooked thing, but in turbos it helps to get a little more spark once you increase the airflow. My idle is still a little off with the intake and the coils should work, might even gain a couple HP. I might get a strut bar to improve the responsiveness in steering.
Lots of interior stuff is in the future. All the crappy armrest fabric has to go. New head unit is also a must have. Now that I can do more spirited driving, the stock seats just aren't up to snuff. I'm researching my aftermarket seat options, but this may be further into the future due to cost.