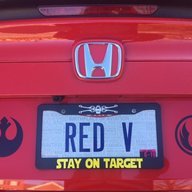 First Name

Todd
Joined

Jun 16, 2016
Messages
Reaction score

1,082
Location
Car(s)

Civic Si, Odyssey EX-L
Vehicle Showcase

Absurd distinction to draw? According to who's point of view? Just yours or the general consensus of drivers?

DCT is really more of an automatic system. You can argue til the cows come home that it is a hybrid but really it you can't define it in any terms of it being a manual and since its an automatic system that is operating the gears, its really more of an automatic. Mind you I actually love DCT but DCT is really just a fancy automatic rather than a manual.

Now getting on to the other points.

I think you are having some reading comprehension issues. Type R is specifically engineered for a specific type of use. It was meant for the racetrack. That is where the history of the Type R begins. In more recent times, it has been heavily tested and built for on the Nurburgring for its performance. The Type R was not designed with the idea of it being used as your DD going back and forth from work or going to the mall or grabbing some groceries. Now can it do that? It certainly can but that is not what it was meant to do. They are targeting a specific niche market and specific group of people. Yeah you have companies like Chevy and Mazda that make their "sport" cars with Auto and Manual but that is their purpose. Honda's purpose of designing and building the Type R is not the same as them.
I didn't draw the distinction, you did. I called your distinction absurd.
By definition, a "sports car" is a 2 seat, 2 door car designed for going fast. This is Webster's definition. So by that definition the CTR is NOT a sports car, neither is the pony car, but the Miata would be.
http://www.roadandtrack.com/car-culture/a28225/sports-car-definition/
The point is, the definitions are elastic. "Luxury" doesn't enter into the equation, although you seem to think it some how makes a difference. Hence my questions about where you draw your distinctions.
In any case, your assertion that no one offers a "sports car" with an automatic is patently false, especially if you are defining a DCT as an automatic.
I think the term you are clawing for is what Top Gear calls a "track-day" car. I would agree that a hot-hatches in general and the CTR in particular would fall into that group. On that point we agree.
But keep in mind that the Focus and GTI offer a DCT, and they are most assuredly a track-day hot-hatch. A DCT, remember, you defined as a type of automatic. I don't disagree, but I think it's more correct to call it a hybrid.
Returning to the CTR, the tech has improved greatly in the last few years. That means, unless you are driving a WRX, the distinction between a Track-day car and a DD is becoming blurry. Looking at the CTR interior, this is a very livable car. If the comfort switch actually does something this could indeed be a tollerable DD depending on your circumstances.
Personally, I wouldn't want to drive any stick in LA traffic. But I also wouldn't want to have a daily commute in LA, even if I had a Tesla. For me, I don't have a daily commute, and I don't live in LA. I have an Oddy for hauling people and stuff, and I'm into TSD rally's and Autocross, so this car might be a great second car/toy for me.