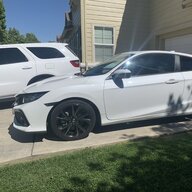 First Name

Charles
Joined

Mar 21, 2021
Messages
Reaction score

55
Location
Car(s)

2019 Civic si

Love mi civic si coupe. Only rockin a dropin intake and the 21.5 tune and this car is just straight fun. Washed it yesterday, tradition is a I do a 100mph dry off because... why not?!?!? Ended up pulling up next to a kitted out 370z and we hit 3 red lights in a row! First one I think I caught him off guard and won, next two he only got me by maybe (maybe!)a quarter car length. No subs, and the 23.5 tune, and that was my race! This car was clean, his only words were "damn that shit is fast!". Took the next U-turn and a cleannnnnnn S2k pulled out right in front of me. He didn't want it, but made sure to pull up next to me and let me know how clean my car was.

Worlds past my Toyota 86, just as fun as my SR20DET 240sx(and it starts every time!)

How many others are as happy with their purchase?!?
Last edited: