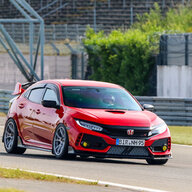 First Name

Joseph
Joined

Dec 15, 2019
Messages
Reaction score

77
Location
Car(s)

2001 Honda Prelude, 2019 Honda Civic Type R, 1995 Nissan Micra

Hello everyone, I picked up my 2019 CTR in Raylle Red earlier this year in March. I was stationed in El Paso and was looking for a CTR and only wanted one in red. El Paso had none all the dealerships in New Mexico and Arizona didn't have any either. A few days later I get a picture from my mom that was in the process of buying a car at a Honda dealership in San Antonio of a red CTR that was just delivered unclaimed. A day later I picked up a rental car got off of work at 9pm, and drove 8hrs to San Antonio. Got there around 5am, slept a few hours and went to the dealer to do all the paperwork and get the car. Left back to El Paso and got back around 11pm only to wake up at 3am for work. I was beyond tired but extremely happy I was able to find one in red considering I only had one month to find one before leaving to Germany. The goal with this car is to track it as much as I can while keeping it simple with the mods. I'm going to keep this build thread simple but if anyone wants to see everything and my other cars you can follow me on Instagram @built_by_Jm
A week later I wanted a little more noise from it so I bought and installed a Mishimoto intake
Also installed some Acuity shift linkage bushings while the intake was out.
Hated the way the orange side markers looked so I picked up and installed some smoked LED side markers.
A month later drove it up to Dallas to have it shipped off to Germany.
Finally two months later the car arrives in Germany. Got the car inspected and registered and picked up my plates.
Wasted no time and a few days later I took it to the Nürburgring Nordschleife. It was a rainy day and did a few laps. Overall the car felt solid around the track.