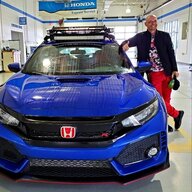 First Name

Evan
Joined

Jan 11, 2021
Messages
Reaction score

1
Location
Car(s)

2017 Honda Civic Type R

Check this out. I just bought my 2017 Type R a few weeks ago. And on the 5hr drive to my parents to let them see the car it started misting. Found out real quick that intermittent does not work AT ALL, not even the initial swipe to let you know its been switched to that mode, "Medium" was actually high and "High" was high. So they either were off or on full blast. So even before all the paperwork was signed we told the Honda dealership about the problem and they said they would fix it. """Keep in mind you the dealership is an hour away from where we live.""" So we took the car back. In short terms this is how it went....and is STILL going.
Took car to dealership, they did tests and gave it back 2 days later, NOT fixed. took it back again cuz they ordered a switch and were gonna install it. The installed it to find that it did NOT fix the problem. Switched wiper motors. Did not fix problem. Switched BCM, did NOT fix problem. Now they say they are running tests on the wiring. Evidently they can get the wipers to work on intermittent through their shops computer but cant get them to work any way at all within the car itself. They also lost their Tech during all of this. So they have been on the phone talking to Tech from the manufacturer. And evidently NO ONE at any dealership or Manufacturing place has EVER had a problem like this with the Type R and they are completely baffled. Honda has had my new Type R in the shop getting it repaired longer than I have actually had it in my posession. Its been about a month now....actually it has been a month because I paid my first payment day before yesterday. lol If ANYONE has had this issue, please let me know. OH and evidently now they are saying my Type R comes with this thing called a Multiplex. Not sure if they have replaced this yet or not but I am so OVER this. Im about to say fuck it and just deal with having nothing but wide open wipers when it rains. :-(
I am a wiring expert and could be considered a tech myself seeing as how I have worked on cars sense I was 8. So I can read wiring diagrams. And I have the diags of this car. So if I get it back....maybe I could wire up my own intermittent. lmao Anyway, if anyone has any ideas or if you have had this problem before and found out what it is, please let me know. And according to them, I do not have rain sensing wipers...just simple intermittent.