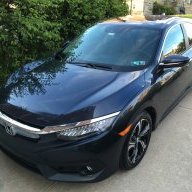 Joined

Jun 17, 2016
Messages
Reaction score

10
Location
Car(s)

Koz McBloo 2016 Civic Touring Sedan

It sure would. Bumper-to-bumper for 36k/3 years covers everything. The bigger "if" is if the dealer thinks its enough out of spec to adjust it.

I'm in the same boat, so I understand - don't like going to the dealer for anything if I don't have to.
I send an email to the salesperson coated with sugar about the car and the salesperson and everyone that helped me in buying the car, and then mention that I'm very disappointed with this aspect of the car that shouldn't be a concern with someone who purchased a brand new car, not matter the "deal" you got. As long as you're nice about it, they shouldn't have any problem dealing with the issue. I did this with the subwoofer rattle and they had the manager of the service department call me to set up a time with him, and he moved heaven and earth to fix it, including getting me a rental for the day it was in service.