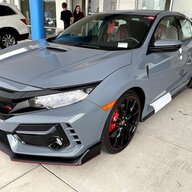 First Name

Alex
Joined

Nov 13, 2018
Messages
Reaction score

680
Location
Car(s)

2017 M2, 2013 X5M, 2019 Type R!!!

So with respect to going to a 19 or an 18, is there a setup of a 19 or 18 that feels essentially stock, has the same performance, or is it always a step down when you go down from the stock 20 to something else?

I'm intrigued by the different sizes but I am loathe to give up performance for a bit better ability to handle a bump. Just curious if that's realistic or if there is always some tradeoff.

If there are tradeoffs - what are they, and are they worse 18 vs 19? (would assume so)

If the 19 is not that big of a step, but still maintains stock driving characteristics, what's the most aggressive size / tire size for a 19 setup?

Thanks all!