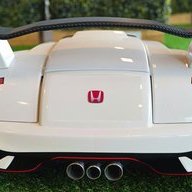 Civic was washed away in Houston Harvey maelstrom
Banned
First Name

UNK (uncle)
Joined

May 19, 2017
Messages
Reaction score

152
Website
Car(s)

17 Hatch PMM LX HS 0w-20 FF 5650 miles, 06 Accord V6 MC 5w-20, 95 SC300 V6 QS 10w-30
Well... I went to the store today, parked in the farthest corner of the parking garage, and with my luck... someone hit and ran.

[ATT,ACH]45631[/ATTACH]

[ATT,ACH]45632[/ATTACH]

I guess its time for a new bumper and probably the trunk too since it is scratched up.
This is hogwash an balderdash. I hit my plastic trashcan backing out and I was squeamish to even look for the rest of the day. This would break me. Srsly.
Last edited: