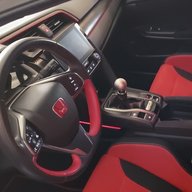 First Name

Paul
Joined

Jan 18, 2019
Threads
Messages
Reaction score

467
Location
Car(s)

2018 Honda civic Type R, 2002 Lexus SC430
Vehicle Showcase

I test drove a Civic Sport Hatch first..I just wanted to test drive it, the dealership 50 miles south of Tampa was horrible, the old salesperson got me to sit at his office then left me sit there for about 10 minutes and he brought his dumb ass sales manager with him. When I wouldn't bite for a "deal" at 27k he kept on pleading "why?, why?, why?, you say you like the car." Like I would ever buy from these shysters. They both left and after sitting there another 10 minutes I attempted my escape and they literally lined up 3 employees to mostly block the exit. Swear to effing god..I did my best to squeak through their maginot line and GTFO. Probably the dirtiest dealership I've ever been but one in Vegas was very similar.
Anyway, I got lucky a few months later when a guy I knew bought a salvage 17 Si, 5k miles, in almost perfect condition for his new wife but she quickly tired of driving a stick. I quickly jumped on it paid him cash he probably made 2-3K on it but heck he deserved it as he flew up to the Northeast to buy it.
My goal for the rest of my life is to never, ever go to a dealer again. Not for oil changes, recalls, nothing. I'm pretty sure I will succeed with my goal.
Just out of curiosity, what did you wind up paying for your SI? Also, does it have a restored salvage title?
It seems as though the WRX and GTI are the cars that other people consider along with the Si. That means that the Si is in good company to be considered among 2 other great sport compacts.

Glad you chose the Si considering you got a good deal on one.
I drove the WRX- thought that was what I wanted. But the price premium for the WRX, plus the much better shifter in the SI, the seats, less weight, better mileage, probably better reliability, etc. made it a no brainer. I actually even like the looks of my Aegean Blue '17 sedan better. And I am 23...plus another 40.
Test drove the Focus RS, because, why not? Cost aside, the seats were way over bolstered - and I like seats that hold you, but the SI gets that balance right. Cornered unbelievably well of course, but other than that, not very natural feeling, or a good daily driver. Given the engine issues, glad I didn't stretch for that.
Didn't cross shop it at the time, since it wasn't out yet, but recently test drove a Veloster N. Interesting, but still prefer my SI. And they even offered me a very good deal at $ 30 K with the performance pack. 70 more horses, better exhaust / engine sound than the SI, but the N interior was not even as nice as my SI, and
wasn't really any more fun to drive. And mileage - forget it. So a lot more money to have a better sounding engine and custom drive modes. Nah. So still no buyers remorse after 35,000 miles.
Mind you, I wouldn't knock anyone who bought a WRX, Veloster N, etc. It is just that the SI is the whole package. The only weak points are easily fixable. A good tune if you want more speed. An Acuity kit will fix the pedal spacing for heel/toe, or beef up the shifter, etc.
Practical, loaded, affordable, still lightweight, and will double the speed through a 20 mph roundabout without tire squeal. I have not tuned mine since I need to maintain the warranty on this daily driver, but once that warranty is up...mu ha ha. Unless I throw down for a Type R.
Which I wanted originally - but cost, unavailability, rubber bands for tires, worse mileage, higher insurance, conspired against it. I have sat in one at a car show - I actually like the SI seats better. Have not driven it
2017 Elantra Sport which I was dead set on until I randomly drove the 2017 Si sedan, and bought it on spot

LSD, reliability, aftermarket support, and holding its value have been the biggest pros of Si vs. ES. The 2017-18 ES has an amazing exterior which always makes me do a double-take when I see them on the road. The 2019 mid-cycle refresh Hyundai just performed is truly awful, one of the worst mid-cycle refreshes along with the new Camaro
That is a great looking car! And you got the right color. 'I am not biased at all', says another owner of Aegean Blue '17 SI sedan. How is your paint holding up? So far I have no fading or oxidation after 22 months.