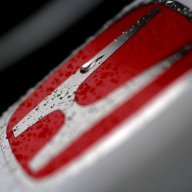 First Name

Admin
Joined

Apr 1, 2015
Messages
Reaction score

2,252
Location
Car(s)

Honda
Build Thread

Via:
http://wardsauto.com/engines/2016-wards-10-best-engines-test-drive-honda-civic
TRANSCRIPT:
Of the 31 contenders in the 2016 Wards 10 Best Engines competition, only two are naturally aspirated inline-4s working free of hybrid drivetrains.
The conventional 2.0L engines are found in the Hyundai Elantra and Honda Civic. Head-to-head, the Civic readily whups the Elantra in refinement and overall performance.
I spent considerable time behind the wheel of the Civic over Thanksgiving weekend. And for those who might overlook traditional technology in the softening compact-car segment, Honda seems to be asking, 'Surprised'?
I answer in the affirmative. Mostly.
Honda has upped this all-aluminum I-4 from 143 horsepower to 158, and torque from 129 lb.-ft. to 138. The higher numbers mainly reflect the transition from the 1.8L 4-cyl. in the '15 Civic sedan.
Honda credits the continuously variable transmission introduced in the Civic two years ago for an uptick in fuel economy and acceleration. But I missed that extra dollop of power while running in Eco Assist mode, which did give me 36.4 miles per gallon over several hundred miles of combined city and highway driving.
That's well short of Honda's claim of up to 42 mpg highway, but neither is it a deal-breaker in a car competitively priced at about $20,000.
Taking the Civic out of Eco provided a moderate boost in power without sacrificing much in the way of fuel economy. And with gas prices south of 2 dollars a gallon, why not? I was able to get plenty of pep out of this 10th-generation C-segment stalwart. Hence the surprise.
The new, turbocharged 1.5L 4-cylinder also available in the '16 Civic may be drawing more attention. But Honda also is pushing ahead with the tried-and-true, and pulling it off.