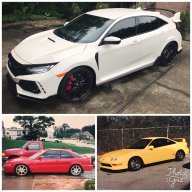 Joined

May 17, 2017
Messages
Reaction score

838
Location
Car(s)

1992 Integra GS-R (sold). 2000 Integra Type R (sold). 2017 Civic Type R.

Well I'm sure it was probably from one of the gas stations we visited in the area. One card was used for an online test transaction, weirdly my card provider claimed they had the right address when I spoke with them. The other card was used back to back, $20 charges each at a shell gas station in Woodstock, GA.
Either way both my card providers took care of the issue. I will say the test transaction was caught as fraudulent, while the gas station charges went through. Test transactions don't show up on your transactions ($0 charge).
Not a big deal that's why I exclusively use credit cards.
It does suck I have to update all my automatic payments.
That does suck having to update all the auto-payments, but glad your CC company is taking care of it. Most gas stations have cameras, wonder if it's worth seeing if an investigator would go to those gas locations and pull up the tape and see if you can get a face or license plate. Also, an online test transaction? Like for a college course or something? Couldn't they drill down and see who benefited from that to figure out who the thief is?