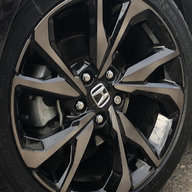 First Name

david
Joined

Jan 28, 2018
Messages
Reaction score

35
Location
Car(s)

2016 Honda Civic LX - 6 spd

The County where I live has a lot of intersections where the perpendicular street has a higher speed limit and poor visibility due to trees/shrubs or bends as a result, a lot of times you find yourself needing to put the gas down to get going as a convey of drivers stressed from their day of work appears in your rearview approaching at 45+ mph from around a blind bend.

I have the base model 2016 Civic LX, the factory tires did not do a particularly good job of keeping traction, even once the wheel was straightened and the car was moving. So not only did I "upgrade" to these tires, but also went significantly wider with rims.

While these tires have a much better ride, seem to be wearing slowly, and are great in the rain, the low speed and launch traction are sub par. I am not gunning my motor, anything more than half throttle, these tires will break traction loose and the entire City can hear me, even from a dead stop, even once I get going, if I put the peddle down these break loose. While the Civic has an impressive 158 hp motor, I don't consider it particularly fast, nowhere near as powerful as previous front wheel drive cars I have owned, including a 220 hp Taurus SHO and an Infiniti I30. I had cheaper tires in the same width as my current tires on those cars and they never had problems holding traction like this.