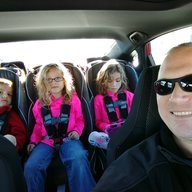 First Name

Charles
Joined

Nov 3, 2017
Messages
Reaction score

3,369
Location
Car(s)

'14 Odyssey EX-L '18 Civic SI Sedan '94 300zx twin turbo 2001 Ford F-150 Sport
Vehicle Showcase

Got back from some soccer stuff the night before last. Someone (and I live towards the end of a dead end road) decided they come in my driveway and scratch both passenger side doors and the rear quarter panel to shit.
Makes me sad. I had someone shoot out my side window on a Z31 I had (found divots and BBs that didn't go through my windshield) back in the 90s... but this is a new one on me.
Its sad that people can't have nice things. It's through the clear coat in a few spots... and through the paint in a few others... so respray I suppose it will have to be. I worked a few with some scratch remover but it's all for not. It's things like this where I have to remind myself that shitheads... even ones who encroach on me and mine... are still someone's children. Police report is filed... deductable is $500. Well see if it worth a claim or not.
Probably a dozen or more deep scratches... here a few fun pics for Ooos and Aaaahs.
View attachment 89040