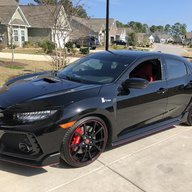 First Name

John
Joined

Mar 6, 2019
Messages
Reaction score

204
Location
Car(s)

2018 type R 2015 c300

I was always against the posers and the idiots that put Type R badges all crooked on their non dropped all stock beater shit box looking civic or whatever they rice the hell up. I don't have respect for the badges and the body kits. What I have respect is those that make their lower end civics handle and go some what fast as a Type R.
Let's talk about the EK...it is money to get a real Type R, but you slowly get parts and make it the same as a Type R because parts are available.
There will always be posers in the civic world and we thank them for giving the bad name to Honda for the many years of rice they have provided us.
If your civic is an EX don't badge an Si on i because you don't have larger brakes o. r LSD from factory. I won't badge my Si a Type R because I don't have a 2.0 turbo and rev match and other things.
Now that I have stated my opinion let's get back to topic. I wanna see the wack people that have Type R'ed their non Type R civics.
+10000
I totaly get you and I know what your saying. I almost didn't get my type R just cause I have to deal with the reputation garbage from the fake "I beat a FERRARI" Posts and you name it ive seen it. Ive been an automotive tech for over 20 years. Ive owned everything from a 700 hp camaro to my type r and an s3. Im not going to get my list of cars. The type R is special. I would have never traded in my 600whp 2013 camaro zl1 with a custom 2 tone paint and over 10k in performance parts alone otherwise. None of which mods pertained to suspension except for solid subframe mounts. Lowering your car does NOT auto matically make it faster in a corner. A good set of tires can do more for a car than 99.5 percent of people can imagine.
Bottom line like was said here. DONT BE FAKE!! Im so tired of hearing crap just because some non knowledgeable honda owner tried to tell a custom car builder how to do his job. If you don't know don't talk. Your not boosting your ego your making us look stupid!