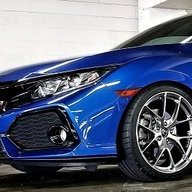 First Name

Leo
Joined

Mar 23, 2018
Messages
Reaction score

167
Location
Car(s)

2018 Civic SI

So I purchased a Stage 1 Tune from Two Step Performance. 237whp and 280 tq Sounds too good to be true right?
Well it is.
I flashed my car using
@KTuner
V2 (Been running 23PSI Base map for a few months now)
Immediately I noticed a horrible "Rich" smell. Car felt a bit down on power but I imagined that was because they use a Boost by Gear Tune as opposed to a steady 23PSI like the Ktuner Base Map. I did a few street pulls and noticed my Knock Control was crazy high. Went from 0.49 to 1.09! Overall the car just didn't impress me. Honestly felt slower than my 23PSI Base Map. I thought maybe something wasn't right or I got a bad file. I immediately called
@Two Step Performance
and Spoke with Corey Poole. He confirmed the file he sent me was "The same file everyone else got"
I figured, enough with the Butt Dyno, let's take it to the track!
Lined up for my first run, launched at the Preset 3k rpm and dropped the clutch. Car chirped a bit, then and bogged down hard, I mean it fell flat on it's face. Felt like I was getting zero power, then power kicked in and took off, I bang'd 2nd gear and experienced a similar feeling as 1st gear. Huge Turbo Lag/Hesitation feeling, car did nothing for a split second, then all of a sudden power kicked in and 2nd gear started to pull. 3rd and 4th gear felt great.
My Second run was near identical as the first. Only difference is I launched at 3,500rpm trying to eliminate "Bogging". No luck, car still bogged hard.
TSP Stage 1 Results:
First Run -15.68 @ 87mph
Second Run - 15.30 @ 86mph
I was scratching my head as to why mph was so low? There was a Bone Stock 2018 SI there trapping 90mph consistently. At bare minimum, I should be able to match a factory Trap Speed.
I went with my instinct and decided to flash back to my 23PSI Base Map. Sure enough, my car was back to normal, no bogging, no Turbo lag/hesitation between gears, no crazy high Knock Control (stayed between 0.49 and 0.54)
I launched the car at 2,500 rpm got a bit of wheel spin (instead of bogging) and pulled a more realistic time.
23PSI Base Map Results:
14.61 @ 93mph.
Last edited: