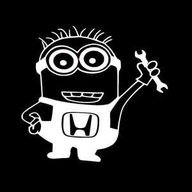 First Name

Peter
Joined

Jul 1, 2019
Messages
Reaction score

60
Location
Car(s)

2019 Civic Hatch Sport Touring, 2010 Subaru Forester, 2015 Yamaha FJ-09

Just upgraded the OE subwoofer in my 2019 ST Hatch with an 8" shallow mount Pioneer. Driving it with Alpine MRV-M500, using OE subwoofer wires as speaker-level input. The amp has the following controls... Gain, LPF and Bass EQ (fc=50Hz). I have a remote bass knob in the front, which basically attenuates gain from the value set on the amp to zero.
The head unit obviously has subwoofer control, so now with all the other controls added... is there a good accepted practice to tune the upgraded setup? Where should the HU controls be... middle, 3/4... other?
Something else that came to mind... I recall
@ctrmofo
noting that the HU is only expecting to see 2 ohms on the subwoofer channel... but these wires are now seeing high impedance (high level input on the amp)... would this affect what the head unit outputs to this channel. I'd normally just tap full range speaker wires, but in this case they were actually disconnected from the speaker and moved to feed the amp.
The sound has improved a lot, and I will continue to experiment... but I am hunting for some of the punch that is lacking in the sound. Not looking to rock the neighbourhood with the 8" shallow mount unit... but I've heard 8" perform much better, Hope someone who's done this would chime in with their thoughts and experience. TIA.