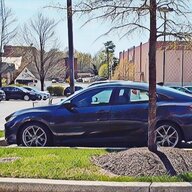 First Name

Mitch
Joined

Oct 27, 2015
Messages
Reaction score

17,106
Location
Website
Car(s)

2017 Cosmic Blue EX-L Sedan
Vehicle Showcase

I first installed the TSP tune in July of 2019. At the time I was coming from a fairly aggressive KTuner dual starter 21. I actually had that KTuner starter tune dialed in really well and it was super responsive around town in stop and go and had great midrange ooomph. The only letdown was high rpm punch. It just was a bit of a dissapointment.
From day 1, I was impressed with the refinement Derek built into the TSP Stage 1. At all rpms, it was smoother than the KTuner tune. And being someone who does more than half of my driving on the highway, the improved top end oomph was the biggest selling point. The only area I was slightly dissappointed in was the off the line feel. I just wish the throttle response was a little better down low. Not that it's a bad thing because I'm sure Derek tuned it that way to protect the CVT. On a scale of a perfect tune being a 10, I'd give the TSP Stage 1 a solid 9.
Fast forward to early this morning. I decided to really put the tune through it's paces for about an hour. It was a combination of some high speed highway passing and about 20 minutes of carving up some windy back roads while really hustling. On a side note, Honda did a great job with the 10th gen chassis. Luckily there was very little traffic so I was able to wring things out. At one point at a stoplight an F150 wanted to play. I let him gun it off the line and zoom ahead. And then I effortlessly zoomed by him with ease.

So, how do I feel about the tune after running it for a year and four months? Pretty much the same as I did back on day 1. The tune is smooth and solid. Throttle response is linear from top to bottom. Could it feel a bit better at light throttle? Yes. But give it a bit more throttle and the car just goes.
If somehow TSP could allow user adjustments for both throttle response and part throttle turbo responsiveness, the tune would be just about perfect, IMO.
Still, I highly recommend the tune and for $80 it can't be beat.
Last edited: