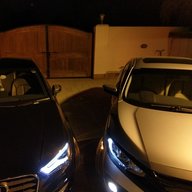 First Name

Salik
Joined

Mar 7, 2019
Messages
Reaction score

12
Location
Car(s)

2016 honda civic 1.5T, Audi A3 1.8T
Something is definitely wrong if his car is noticeably slower on a Starter 21 then a Flashpro +6. The Ktuner not only peaks higher overall psi but has higher boost at lower rpm too. Plus all the part throttle tweaks available. Your friend should join and post his settings and a datalog.

Did he for some reason leave all the user tweaks (spool, turbo response, throttle response, A-VSA, ramp etc.) on factory? Also with numerous bolt ons, I honestly recommend a custom tune.

I've owned both so this is from personal experience.
he used to be quicker than my car on launch on 21psi but that time i had not installed intercooler, only PRL stage 1 and dp/fp....so after i got intercooler it made big difference in IAT. Since he got TSP stage 1 tune he has not gone back to 21psi base map and pretty much enjoying on tsp stage 1 like Arnoldo mentioned above.