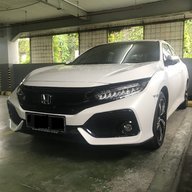 First Name

Arnoldo
Joined

Nov 28, 2019
Messages
Reaction score

124
Location
Car(s)

2019 Honda Civic Hatchback

I recently purchased TSP Stage 1 Hondata Flashpro tune for 2016+ Civic 1.5T Non-SI.
I always use RON 98 fuel, which I believe should equal with 91-93 octane US fuel. The car is only 1.5 months old and its mileage is relatively low at 756 km when I flashed the tune.
I never purchased a canned tune in the past as I prefer dyno tune. I recently found out that most of tuners in my country do not bother to really create a custom tune on the dyno for the car but rather reflash Hondata basemap and called it a day.
Throttle and turbo response improved compared to basemap. On the basemaps, boost would only start at 2500+ RPM & felt a little dragging. Boost and throttle seem to be more linear with TSP Stage 1.
Responsiveness is improved and lag I experienced less lag with TSP Stage 1 compare to basemap and TSP Stage 1 tune is somewhat smoother than basemap, in a very controlled and refined way. The car feels more agile, but not in an annoying way.
I could rarely do WOT driving on the highway due to bad traffic in my city but I always datalog regardless bad traffic or not. Thankfully, I could do aggressive driving in 1 fine morning (5:30 AM) so I floored it in one occasion.
I went through a few datalogs that I have recorded and I found the following interesting fact:
TSP Stage 1 peak boost was 23.7 PSI at 4,488 RPM. Will this be safe for my engine internals knowing that our 1.5T non-SI conrod is not as durable as the SI variant?
I took a peak on torque limiter setup and found torque limited goes up higher than Hondata recommendation. Torque limiter at 3500 RPM is 287 nm, 4000 RPM limited to 310 nm, 4500 RPM limited to 300 nm, 5000-7000 RPM limited to 325 nm. Will this be safe for my CVT transmission?
Fuel trim is worse than Hondata basemap. Fuel trim with basemap hovering between -10 and -5 at average. TSP Stage 1 hovering between -14 and -7.
I understand that I'm purchasing canned tune and no customized tune is made regardless the environment where I live in that might affects fuel trim and tune.
I wish there is information regarding safe maximum tuned boost that our internal could take and the actual safe torque limit that our CVT could take when tuned.
Due to safety consideration, durability, and longevity of my car, I might have to ditch TSP Stage 1 tune and switch back to Hondata Flashpro basemap with the hope to find tuner to help me refining fuel trim. Driving experience may not be as awesome as TSP stage 1 but at least it meets my requirements.
My considerations are as simple as the 3 facts that I found from datalog.
This is screenshot from datalog:
Last edited: