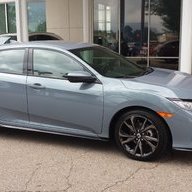 Manual transmission for life...
First Name

MJ
Joined

Aug 24, 2018
Messages
Reaction score

4
Location
Car(s)

2018 Civic Sport Turbo 6sp MT

I've had my 2018 sport turbo 6-speed manual for about two months now and I noticed that the wheel bearings are pretty much trash.
For those of you not in the know a wheel bearing should spin for like a minute if they're really good expensive bearings; which means if you're driving down the road and pop it into neutral you should be able to Coast on a flat surface for like a mile which I can't even do for two blocks in my Civic.
Then while watching random videos on YouTube this comes up in the recommendations:
I also think the bearings sound really crunchy in general which they should not if they're brand new and well-greased...
Has anybody else noticed this? I have had my car since factory [7 miles on it] but didn't really want to address the fact that it wasn't fully satisfactory because I just dropped like 30 grand on it....