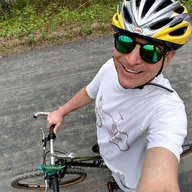 First Name

Leef
Joined

May 27, 2018
Messages
Reaction score

82
Location
Car(s)

2018 Civic Si Coupe Modern Steel Metallic

I wanted to get some thoughts on where forum members are with the issue of safety involving touch screens. At the outset, however, I want to take a paragraph to mention where I am coming from (I'm definitely not here to proselytize - I'm just asking for ideas).

My new 18 Si is a replacement for a car that was totaled in a high-speed head-on collision - an accident that was not my fault and over which I had absolutely no "outs" when the other vehicle left it's lane (single lane each way, guard rail at the fog line on a curving bridge ramp). That car I was driving in turn was a replacement for another vehicle that got totaled - again not my fault - when I was driving on a country road at night and had to stop suddenly for wildlife. The driver behind me was tailing too close and failed to stop when I had to, plowing into me so hard that the short travel of my head against a well-adjusted cushion headrest still gave me a concussion. Finally, last week - just a day before I was to pick up my brand new Civic - the car I was in was slammed into from behind by a distracted driver while we were waiting for traffic to clear at a light (we were making a legal left turn). So palpable was that recent memory that I was nervous at the thought of driving my new car off the dealer's lot the next day. Enough has happened to me on the road to instill in me a strong sense that I only own this car through day-to-day grace, and fate can have its say on any drive at any moment. These things happen in a shocking instant - and never when you think they might.

I look at those situations - some involving distracted drivers and others making me very thankful I myself was not distracted - and really have to scratch my head about how to integrate the built-in distractions of touch screens in a comprehensive approach to driving safety. Don't get me wrong - I'm a first class geek, having hacked my Honda head unit and gotten it to converse with my Android, and iPod and a thumb drive. I'm also a pilot where a good portion of many flights is focused on glass panel displays - certainly when flying in weather (interestingly, distractions in flying can be the opposite of those in driving, where focus on the instruments often takes precedence over outside visual clues in which the latter can be distractions).

So I am wondering what other drivers are doing as far as approaching their own distractions. My last car was a Mini that had a screen which was not touch activated but rather used a center console mounted joy stick that moved along 3 axes. In a way, I think that was safer. I memorized twist, push and click patterns for anything I might want to activate and even memorized the toggle switches (my formative pilot training was learning the cockpit well enough to navigate its switches and dials in the blind).

What I'm doing:

1) Android Auto effectively allows me to shelve my phone during a drive. I see no need for a phone mount, and in fact I don't even snake the USB cord through the hole in the dash; I plug it the phone in and place it on the hidden dash panel out of sight because everything that is necessary is through Android Auto. Similarly, the iPod sits back there as well (plugged into the power outlet via a USB insert) and I've never had to pull that out during a drive or really ever - except to take inside when I want to sync new tunes with my iTunes library.

2) I'm training myself to memorize by touch the steering wheel controls - it seems that much of what is on the touch screen can also be navigated that way, especially on the speedometer display (eg switch from iPod to Sirius XM and similarly with navigation) - but I'm still learning what is possible.

3) I've programmed Tasker to turn my phone into a hot spot when the car's Bluetooth connects to it - so I literally plug it in and forget it.

Ultimately, I'd like to get to the point where I never touch the screen while driving. Thoughts? I'd be especially interested in input from those involved in traffic safety (eg. troopers, etc) who might be in the forum.
Last edited: