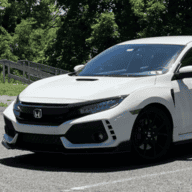 First Name

Matt
Joined

Mar 26, 2017
Messages
Reaction score

1,347
Location
Car(s)

2017 Mazda3 GT Hatch 6AT, 2018 Honda Civic Type R (traded in)
Vehicle Showcase

...but I did it, guys! I said I was gonna trade my car in for something more docile since my needs have changed, and I did just that today. Leading up to this moment I had a lot of anxiety and worries that I was making a mistake. Then I started to realize I was overthinking everything, and that I could do it. I beat that anxiety, and I beat it into the ground.
I won't lie, when I stepped out of my Type R for the last time, there were tears in my eyes. They were tears of sadness - but over the horizon I saw my new car waiting for me. I told myself I can do it, and I pulled through. As I drove off the lot... I wondered, did I just do that? And when I was able to say "yes I did", a smile perked from my face once more.
The Type R was one of
the best
cars I've had the privilege to own without a doubt. It may have had it's flaws, but there was magic in the way the Type R drove. It was the finest example of Honda's engineering knowhow, and I am truly grateful to say I was able to experience it for my 2 1/2 years of ownership. I'll never forget how many smiles this car gave me.
My new car is nowhere near as cool, or fun, but that doesn't mean it is a total drag. This is my new 2017 Mazda3 Grand Touring Hatchback with the 6-speed automatic transmission!
So my new car isn't as cool, but I'm OK with it. With the stress in my life this suits me perfectly. It's comfortable, quiet, and loaded with tech. It's not Type R quick, but it's not a total slug either. I can tell you that this car really feels good to drive through. The steering and handling especially. I'm already really fond of my choice.