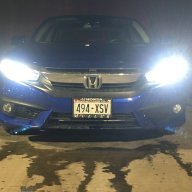 Joined

Mar 4, 2016
Threads
Messages
Reaction score

222
Location
Car(s)

2016 Honda Civic Touring

I've owned quite a few Civics - I had a 2006 coupe, 2010 EX-L sedan, a 2012 Si, and 2013 Si...now a 2016 Touring.

The Touring is, far and beyond, the quietest of all of them. The 2012 was a miserable piece of equipment and it was so loud inside you had to raise your voice at highway speeds to talk to people. I cannot articulate my distain for the 2012 model highly enough. The 2013 was much quieter, though the engine in the Si at highway speeds was very loud and if there were high winds or rain, you definitely heard it.

The touring is a league apart. It's not as quiet as my friends Lexus ES (nor do I expect it to be), but the only time I ever hear any slightly noticeable noise is during extremely high winds or at 70+ mph. Other than that, there's seriously almost no road noise that I can tell and I'm VERY fussy about noise: I can hear a canary fart in Fort Lauderdale from Milwaukee.

There's not a car I've driven in this class that's as quiet as the 2016 Civic. By a long shot. And we all know it's not Honda's strong point typically.