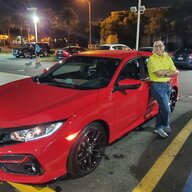 First Name

Dario
Joined

Jun 6, 2017
Messages
Reaction score

85
Location
Car(s)

2021 Honda Civic Hatchback Sport

I'm thinking of getting a 2021 Civic Hatchback Sport in a few weeks and I want to turn my current 2017 Civic Hatchback LX model in to Carmax to see what kind of price I can get from there. The car runs great, I've maintained it myself over the last three and a half years with everything put in the records with the mycarfax tool. Other than slight paint ships from rocks or other things, the car looks great too!
However, there are a few things that I have installed or taken off the car, all relatively minor and things I can change back to stock if I really need to.
Mishimoto Oil Catch Can (@Mishimoto )
Honeycomb Mesh Grille from Procivic (@procivic )

I really would not want to take this back to the stock grille. It took a lot of work to get it on haha. Plus, it just looks cool!

Interior LED lights (map, roof (dome), and trunk) from TypeRLEDS (@TypeRLEDs )
I also removed the bottom panel covering the engine oil and transmission oil pans. It was such a hassle every time when changing them that I eventually just removed it entirely
I also just got new tires, but I'm sure they'll be happy about that instead of caring.
It's my first time trading in a car at Carmax for money. If anyone has any experience on this topic, it would be greatly appreciated!