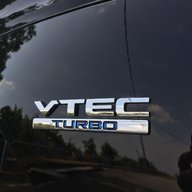 First Name

Jay
Joined

Aug 19, 2018
Messages
Reaction score

1
Location
Car(s)

Honda Civic 1.5 TC-P
2018 Honda Civic 1.5 TC-P
I'm a Honda fanboy, there I said it. I come from the land of Malaysia, where car ownership has its deprivations. I'm talking about high taxes on imported cars & a car community that can be extremely welcoming and warm or cripplingly narcissistic, giving you the cold shoulder for the type of car you drive. A place where OEM parts are sold alongside its counterfeited equivalent from Taiwan/China/Thailand. But I'm not here to dwell into the economics of car part trading nor am I here to discuss the fallbacks of my country's car community. I'm here to share my journey of owning a piece of machinery that brings you, me and others a sense of joy. I'm referring to the 10th generation Honda Civic.So lets get to it.


Based off my internet searches and prowling, I believe the Malaysian-made Civic might not be that far off in terms of spec sheet from the Civics North America gets. I chose the Honda Civic TC-P (Turbo Charged - Premium), the top of the line Civic, excluding the Type R, which is available here. So what does the top-tier Civic get you? Creature comforts, mostly. Dual zone climate control, electric driver seat controls, that rather sharp-looking LED headlights, LED fogs, auto-dimming rear view mirror, built-in navigation and of course chrome door handles - because, premium. So why then did I fork out the money to buy a brand new high-spec'd Civic? Well, as I type this, there's a 3-month long tax holiday going on in Malaysia, a certain Government Service Tax has been abolished, which means every Malaysian is taking full advantage of this - lining up and buying everything under the sun. Imagine my shock when I pulled up to my Honda dealer to find an empty showroom. "Some people were willing to pay cash for the demo units, someone wanted to buy the test-drive car too", my Sales Advisor said with shrugged shoulders. Poor guy has been knee deep in phone calls & text messages from people looking to get their hands on a brand new Honda before the tax holiday ends.


We don't get the Civic SIs or RSs here, no hatchback Civics here neither - hell we don't even get a manual transmission. Nothing remotely sporty about the Civic. And yes, that means I've got a lousy CVT with paddle-shifters. Maybe lousy is too harsh a term for it, uninspiring seems more fit. This is a brand new car & I've barely clocked 50km on the odometer, so I'll be reserving judgements on how the CVT behaves on daily & spirited Sunday morning drives, for now at least.


Here's a positive - I like the looks of it. Especially in Crystal Black Pearl albeit my particular unit is covered in swirls, you definitely can't see it in my crappy mobile phone pictures but its there. I believe the Sales Advisor had the car polished & waxed before delivering it. Bless his heart, his intentions were good but holy cow is it bad and with this I've been introducing my car as "Bob Swirley" to friends. I do intend to look into getting a paint correction and coating done. Perhaps installing some PPF as well but these are luxuries I can't afford as of now. Yes, I can DIY it but I don't have the adequate skills nor the equipment to do this. When this model hit the market 2 years ago, automotive journalist & connoisseurs were raving about the Civic's good looks - I was on the fence about. I liked it but I did not fall in love but as I drove behind these things on my daily commute, I grew fond of it. I love how the exhaust splits into two mufflers, yes they're pretty much hidden but it peeps down enough for you to know something's up. Over the past two years, some aftermarket alternatives have popped up for the taillight and mufflers. I am for now leaving it be as I intend to enjoy a rattle-free muffler and would like avoiding shorting the electrics on this car. (I'll have plenty of time to experiment & probably ruin the car later on) I am however lusting over the Thai-spec Civic RS spoiler. It reminds me of a Porsche's whale tail and I think it ties the back of the car rather nicely. I will be dwelling into this once I've gathered enough research and knowledge on this particular part. Other than that, I don't foresee too many cosmetic modifications in the near future.


Interior wise - it's quite comfortable. I haven't taken it up to highway speeds yet but I've heard of a common issue; that there's a rattle stemming from a broken clip in the dashboard as well as there being some wind noise in some Malaysian models. Fingers-crossed that my car isn't affected. Notice the rear A/C vents? I'm not sure if American or Canadian models come with this but its a necessity in Malaysia. Needless to say, we've got some serious heat in our weather. You may be wondering why I've left the plastic covers on the seat. I'm pretty sure you can tell that my windows aren't tinted and I'll be getting this done professionally. The last thing I want is some bloke scuffing up my interior and leaving behind some less than pleasant odours and butt-juice. I will be posting up the tinting process on this thread.


Like I've mentioned earlier, I don't believe the Malaysian & North American differ that much in terms of spec. Well, we've got the steering wheel on the correct side. After fiddling around with the seat controls & steering adjustability, I believe I've found my correct seating position. I haven't had the time to set up the multimedia system or the navigation. But from my short drives around town, I gathered that the 6 speaker system (really, its just 4 speakers and 2 tweeters) is acceptable - nothing to make a big "hoohaa" about. I had the car blessed at a temple a day after I took delivery of the car - which is why I have a little deity in the little cubby in front of the gear lever. Getting your new car blessed is quite common practice here in Malaysia, we've got a diverse culture with many races and believes. Back to the interior, the brushed metal piece on the middle of the dashboard gives the civic the premium feel that everyone wants. I like it but might end up doing something to change up the look.




So here we are, the true reason I chose the Civic over everything else. A turbocharged 1.5 litre L15B7. A small capacity turbocharged engine is a very "continental" move from Honda. Its something that just can't be avoided - with all the tree huggers and emissions control. It is exciting tho, and in a way, this new engine has set the path Honda will now follow. Gone are the screaming banshees of yesteryears. With the excitement this engine has created, I can't help but wonder, is this the new B16A? Think about it this way, a seemingly economical, fuel saving engine that can put down some good power when massaged the correct way. There are 10th Gen Civics in Malaysia running about with 200+hp on the streets. Many aftermarket components have shown up, some good and some not worth a second look but nevertheless there are people out there experimenting and testing out the correct selection of parts to get the most out of this neat package Honda has put together for us. For me, I've noticed the crazy amount of heat this engine generated in the time I've owned it and that's where my focus will be. I'm not planning on chasing big dyno numbers, I think what I want is just a smooth low to mid-range torque. Again, that damned CVT becomes a big concern. So probably a CVT oil cooler is the first order I'll be putting down? I'm just going to take it easy, learn the car and how it behaves with my driving style and make my plans and decisions accordingly. I'm in no rush, this car will be a long term relationship, and one I might keep around till the end. There is one thing that I just can't stand tho;

It's these wheels. I'm not a fan of directional wheels and I am especially not a fan of wheels that are gloss black with machined accents. This has been a trend with Honda Malaysia for a while now. I have no idea why they've done this but hey, I'm no aesthetic expert. I assume there are people out there who dig these wheels. The 17" wheels with thick sidewalls seem appropriate for what Honda wanted this car to be but that's why the aftermarket wheels exists. I think some 18" wheels would do this car some justice. I've an idea of what type of wheels I'd like to have on this car, so that's something to look forward to. The ride height isn't exactly monster truck but that wheel gap could use some filling up. Perhaps some lowering springs are on the table or more fitting, some coilovers. I've been talking to some owners here in Malaysia about the springs & coilovers they run on their cars. Most of them are leaning towards lowering springs as its the economical route since almost all of them just want a slight drop in ride height. I like the adjustability of coilovers and I think that would be a great way for me to learn about suspensions and fine tuning to achieve my goals.




The tires that come on the car from factory are these Continental Max Contact MC5. Despite the ambitious font used on the word "Max", these tires are primarily designed to be all rounder tires that see good thread wear and comfort. Personally, I'm curious as I've heard both good and bad things about these tires, so I would like to have the first-hand experience of these tires. I already know what tires I'll be using once it is time to switch up the tires.




So there you have it folks, an introductory to my very own Malaysian - spec'd 10th Gen Honda Civic. If you've made it this far on this thread post, I salute your patience for putting up with my pointless ramblings. This is a car I'm truly excited about. The build of this car will be focused mostly on street with some backroad/fastroad/touge/wangan spice thrown in. It will be a slow build as there's a learning curve for me with this platform, especially with a turbocharged engine & the CVT. I'll do my best to keep the build thread alive with some interesting content and look forward to any sort of feedback.
​