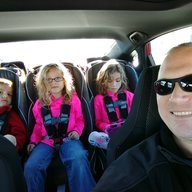 First Name

Charles
Joined

Nov 3, 2017
Messages
Reaction score

3,297
Location
Car(s)

'14 Odyssey EX-L '18 Civic SI Sedan '94 300zx twin turbo 2001 Ford F-150 Sport
Vehicle Showcase

Been a long time, but from what I remember, there really wasn't a lot of story about her, like she could of been left out and it wouldn't make a difference, maybe in just forgetting, but that wouldn't say much for her either lol
Only thing I do remember is that Tony hated her one multi racial boyfriend.
Yeah. I think I'm right at the end of season 4. I thought maybe they'd do something with her but at the most, she's been a minor plot device to create angst in the house. I thought maybe she'd get knocked up... Christopher giving her the drugs would have blown up... something. They dabbled a bit with her and risky behavior that you figured Tony would have gone off the deep end in response... but anything they've done with her so far has been throw away stuff. The last gasp is this legal ethics thing she's in to see if it someway comes back. If her character fades away in professional irony... so be it I guess.