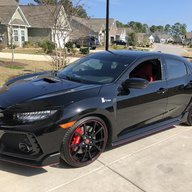 First Name

John
Joined

Mar 6, 2019
Threads
Messages
Reaction score

264
Location
Car(s)

2018 type R 2015 c300

No human ear can hear knock until it's far beyond dangerous point.
This video at the bottom explains why you don't do it. In a nut shell of removing a small amount of timing, adding more fuel, reducing boost or improving your fuel quality changes the knock reading it's very real. Even going 1.5 degrees can cause more knock from a single cylinder to all 4 instead and multiple knocks. Just cause you modified the car does not means you created more noise, that it's false.
This scenario is rare. Long tube headers on a car that previously had cast manifolds can add very little but it has to be an alteration directly attached to the block. Long tubes have thinner walls sound exhaust sound vibration goes back to the block and on many v8 the sensor is right under the exhaust manifold.
This is not true for the 10th gen civic. Fk8 or fk7. You don't change manifold and even with the aftermarket turbo it's not thin material like stainless tubing.
The most you gain will be in torque anyway not hp. False knock would occur regardless of testing conditions I explained above. You may have changed the down pipe or even if you have an upgraded turbo there is nothing that can send vibration back to the block like that.
turbos are made of thick steel and absorb the sound. Yes your downpipe is mounted to a bracket but that's not enough to cause it. The only scenario you might remove some sensitivity is if with say 13 and 15 degrees you get the same single cylinder reading say a single occurrence on the same cylinder at both timing values. You still need a knock listening device to do it cause you can possibly have a faulty injector on one cylinder. Solid motor mounts don't do it either. They can actually cause your chassis to absorb it instead. Your engine floats on rubber mounts like a drummers cymbal. Putting heavy duty mounts is like clamping the cymbal down. The noise gets reduced.. Maybe if you did a direct metal to metal engine mount you could possibly get a resonant frequency but super highly unlikely. Knock can wipe out a stock tuned car imagine at much higher loads. Detonation literally shocks the piston slamming it into the cylinder wall. That's the part of the actual noise you hear. It happens way before you can actually hear it. The factory knock sensor uses the same exact sensor an expensive knock machine uses but set to a specific sensitivity. Subaru's blew up many ring land cause the factory tune runs 14.7 afr till 4000 rpm at full boost on port injection in order to get their emissions status. Detonation from poor tuning blew many sti pistons apart. Yes it was weakest link but I've seen 1000 mile sti with blown piston but the same engine run for 150000 miles tuned on 370whp. Totally stock internals.
I made over 380whp 93 octane running stock knock sensor settings. No fuel system upgrades stock turbo. I'm now on meth and it's significantly more power still on stock settings. Someone posted Running 17 degrees on 93 which is ludicrous. Don't you think if there was that much room in timing hondata or prl would have done something with it. Especially when e30 car on about 14 max degrees does well over 450whp on small g25-550.