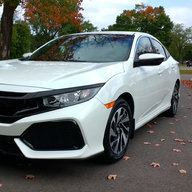 Joined

Sep 17, 2017
Messages
Reaction score

51
Location
Car(s)

2017 WOP Hatch LX CVT
Vehicle Showcase
Good:
Appearance. The hatch gets compliments wherever I go. Still getting used to this.

Fuel efficiency.
Good engine. Unlike many small cars, when you put your foot down it actually does something!
Handling. It's great not to have to crawl through the corners any more. And the low, wide stance is great in crosswinds -- when SUVs and trucks are getting blown all over the road, the Civic just slices through like nothing's happening.
Amazing ride, especially for a smaller car. Built for crappy Northern Ontario roads!
Sound. I know it doesn't compare to aftermarket, but for a stock sound system, the one in this thing seems pretty good.
Android Auto.
Switchable gauges (mph/kmh)! I know it's a tiny thing, but with how much I'm back & forth between Canada & the US, it's a feature I've sorely missed on other cars.
Great roadtrip vehicle all around!
Bad:
A/C was DOA when I drove it off the lot. The dealer was great to work with and had it fixed super fast, but that still shouldn't happen to begin with.
Buggy Headunit. I don't have problems as much as others seem to, but it's still annoying when the sound glitches out and you have to power cycle the headunit to get your music playing again.
Sundry rattles and noises, in my case, mainly from the header area.
Ugly:
Wipers ice badly in winter. In heavy wet snow these things ice up like a fiend; they sit too low on the windshield at rest for you to get enough heat onto them to keep them clean. We have a wiper de-icer on the back, how did we not get one in the wiper landing zone on the front? Seriously considering heated wiper blades.
Low beams are terrible. Feel like I could get more illumination by rolling down the window and leaning out with a flashlight. Considering upgrade options for these guys too.
No pause/mute button on the steering wheel. I've gotten used to the volume± controls on the steering wheel and made my amends with the lack of a volume knob, but this is still a major outstanding "wtf" for me. If something happens that I need to quickly cut the music, I should be able to do it without riding the volume all the way down, or without having to hunt-and-poke for the buttons on the touchscreen.