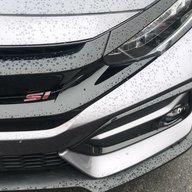 First Name

Anthony
Joined

Nov 8, 2019
Messages
Reaction score

233
Location
Car(s)

2020 Civic Si

I've been going back and forth like a crazy person over the last two weeks on which direction I should go with purchasing aftermarket wheels and I wanted to hear some feedback from everyone.

I want a wheel set up that does not rub under any circumstances while lowered on Eibach pro springs and have the wheels sit as close to flush as possible (no poke) with minimal upset in suspension geometry. I've learned about suspension components and how their geometry affects how the car drives more in the past two weeks than I thought was even possible. I've since learned how delicate of a balance this is to maintain when making changes to things. My understanding now is that you should deviate from factory scrub radius as little as possible or you risk compromising handling and stability.

If the car is lowered, it changes the angle of the SAI (steering axis inclination) which will help counter the change of offset to some degree, but how much I don't know. Additionally, since the civic comes in varying trims with varying wheel/tire sizes and offsets, so our cars have the ability to change some geometry on the fly by removing the guide pin on the upper strut assembly. From what I've read it only is adjustable to about +/- 0.32 degrees.

Ultimately, my question is how much wiggle room will lowering ~1" and adjusting the camber give me to allow an offset that will be close to flush?

Before doing my homework on all this I originally wanted either 18x8.5 +35-38 or 18x9.5 +38-45 to get a flush look while also adding some width for added handling performance. I now am thinking I should stick to an offset as close to the OEM +50mm in an effort minimize change in scrub radius, so I was thinking about doing 18x8.5 +45. This will only be 11.3mm closer to the fender, which is like ~10mm from flush, but I'm thinking I should prioritize the geometry over fitment: Function > Form.

What is everyone's thoughts about this? Is there a specific threshold of offset change to stay within before causing noticeable adverse effects? Am I over thinking all of this lol?

Any thoughts or advice would be greatly appreciated!!