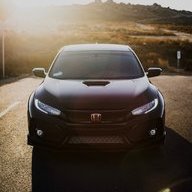 First Name

Taji
Joined

Jan 18, 2018
Messages
Reaction score

101
Location
Website
Car(s)

'19 Civic Type R
Vehicle Showcase

Owning a hatchback has been a dream of mine for a long time. I also really wanted Fiji Blue Pearl when I got my FG2 but settled for Silver. Finally, 11 years later.. I made my dream come true. Introducing my:
2018 Honda Civic Hatchback Sport 6MT FK7
Aegean Blue Metallic

As of 12/6/2018:
Interior Mods:
LED Dome Lights (From FG2)
TWM M1 Abrams Shift Knob (From FG2)
OEM All-Weather Floor Mats
Window Tint
OEM Cargo Tray
JBL Speakers and Sub
Custom Cherry Blossom Shift Boot
TWM Performance Boot Retainer
Phoenix Android Radio 9"
Amazon 7" Tablet for KTuner
Sport Switch
Exterior Mods:
LED Reverse Lights
Smoked Tail Light Overlays
Tail Light Deck Blackout
Fog Light Overlays
Unknown brand LED Headlights
OEM Mud Guards
Gloss Black Vinyl Wrapped Door Handles
Gloss Black Vinyl Wrapped Roof
JDM Emblems Front/Back
De-badge Civic/Sport
Mugen Style Window Visors
Smoked Sidemarkers
Red H Tire Valve Caps
Gloss Back Vinyl Wrapped Spoiler/Top of Hatch
Front License Plate Relocation
Blinking Brake Lights v2
Burnt Exhaust Tips
Type R Center Caps
Fumoto Oil Drain Valve
Morimoto Elite HIDs
Performance:
Acuity Shifter Cable Bushing
Acuity Shifter Centering Spring
Acuity Shifter Base Bushings
27WON Cold Air Intake
KTuner v1.2 - Stage 1
Acuity Shifter Rocker Upgrade
Whiteline Rear Sway Bar with Endlinks
PRL Cobra CAI
27WON W1
RV6-P Catless Downpipe
eTune by Derek for W1
27WON RMM
RV6-P Front Pipe
Custom 3" Exhaust
Type R Shifter Assembly
Hasport 62A RMM
PRL FMIC
You can click the red links next to the dates below to jump to the post regarding the specific mod/upgrade! Enough talk.. on to the pictures!
January 19-21, 2018
-
Goodbye, FG2. Hello, FK7!
January 22, 2018
-
LED Dome Lights
January 23, 2018
-
TWM M1 Abrams Shift Knob


January 25, 2018 -
Mind Yours Window Tinting
20% Front, 5% Back with Sun Strip

February 5, 2018
-
LED Reverse Lights

Before:
After:

February 6, 2018
- Overlays! (Tail Light, Reverse Light, Fog Lights)
LED Headlights


February 18, 2018
- OEM Mud Guards

February 19, 2018
- Wrapped Door Handles


March 10, 2018 - Wrapped Roof by JDMFV


March 13, 2018 - JDM Emblems Front/Back
De-badge Civic/Sport
Mugen Style Window Visors

April 10, 2018
-
Smoked Sidemarkers with LED Bulbs
Red H Tire Valve Caps
April 17, 2018
- JBL Components and Sub Installed

April 19, 2018
- Wrapped Spoiler/Top of Hatch (wrapped myself)

April 22, 2018
-
Acuity Shifter Cable Bushing |
Centering Spring | Base Bushings
April 23, 2018
-
Custom Cherry Blossom Shift Boot
TWM Performance Boot Retainer

May 2, 2018
- 27WON Cold Air Intake

May 10, 2018
- Blinking Brake Lights v2


July 5th, 2018 - KTuner v1.2

August 10th, 2018 - Acuity Shifter Rocker Upgrade




August 31st, 2018 - Whiteline Rear Sway Bars with Endlink Bushings


September 23rd, 2018 - Eibach Springs




October 3rd/4th/5th - PRL Cobra CAI | 27WON W1 | RV6-P Catless Downpipe




November 26th - e-Tune completed by Derek
(W1 Basemap for HBS)

December 7th - 27WON RMM
RV6-P Front Pipe


December 15th - Custom Exhaust


--2019--

January 2nd - Burnt Exhaust Tips
(Removed Custom Exhaust)




January 8th - Mounted Tablet for KTuner

February 8th - Type R Shifter Assembly | Sport Switch




February 9th - Hasport 62A RMM




February 20th - Type R Center Caps

February 24th - Fumoto Oil Drain Valve

March 17th - PRL Front Mounted Intercooler
Morimoto Elite HIDs

March 24th - Center Console Honeycomb Wrap

April 20th - Plastidipped Stock Wheels

May 1st - BMSPEC Hatchback Spoiler

May 14th - High Flow Honeycomb Mesh Grille
w/ JDM Emblem
Waiting to Install:
Whiteline Front Sway Bar
Whiteline Rear Toe Camber
Type R Steering Wheel
Wish List:
Type R Clutch
LSD
​
Last edited: