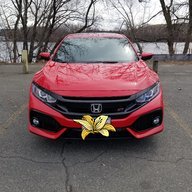 First Name

Stephen
Joined

Feb 9, 2020
Messages
Reaction score

52
Location
Car(s)

2017 Honda Civic SI

Hello friends,
If I was to replace the end-link - go OEM, Moog, Whiteline, or OEM Accord aluminum or Type R?
I've been having some suspension noise in the front driver side. The best I can describe it is that it sounds like I'm hitting a pothole, but when it's just an imperfection in the road. It's very inconsistent, but there are spots in the road where I have been able to consistently reproduce it. Can happen at 20mph, can happen at 80mph.
I lifted my front end (2017 honda civic SI sedan) and did the usual tests - wiggled the wheel at 9 & 3, wiggled at 12 & 6, tried to pry up on the ball joint, tried to wiggle the tie rods - nothing had play. My lower control arm bushing it looking a little worse for wear, but I wasn't sure how to test this exactly. The only thing that has movement is the sway bar end links. They turn with almost no resistance. I genuinely don't have a comparison point, as the last time I had to replace my end link - it was a different vehicle, and simply broken. Should this move freely or have some resistance?
Last edited: