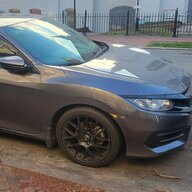 Joined

Oct 9, 2018
Messages
Reaction score

108
Location
Car(s)

2017 Civic Coupe LX CVT

I ended up doing the same exact thing. I'm not in love with it but it's working and I can remount it when I've finished the seat covers I'm hand making.
Off topic question, but on your LX Coupe can I ask what size subwoofer and amp you use? Also, what gauge power wire? I have a 15 inch Memphis DVC subwoofer (unsure what it's specs are as it doesn't say anywhere on it) wired to what I believe is 2 ohms to a very old retro Hi-Fonics Cyclops 100w mono amp (175 watts in 2 ohms) with a 8 gauge power wire, and when I play it comfortably loud it usually shuts off after about 20 minutes, but never shuts off at a lower volume. It sounds great before it shuts off and the gain is set correctly with no recognizable clipping/distortion at high volume, and all the power/ground wires are well secured.
It tends to shut off faster if I'm using the A/C or heater, headlights, windshield wipers, etc., so I've been trying to determine which of the following may be what's causing it:
A) The stock alternator/battery is insufficient (The map lights do dim a bit when bumping the bass while the car is idle. Wondering if other people with our LX Coupe have the same problem? I have a 30 amp fuse installed, so my current to the subs shouldn't be more than 30 amps)
B) The 8 gauge power wire is too small (The Amp's manual says 8 GA should be sufficient for the length of my wire)
C) The amp is 30 years old and I should just buy a new amp
I've been trying to figure this out, and was just wondering if other people with my LX Coupe equipped with a sub experience the same problem as me, which will help narrow the reason down. Thanks!!