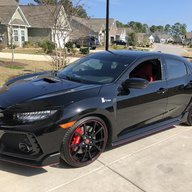 First Name

John
Joined

Mar 6, 2019
Threads
Messages
Reaction score

264
Location
Car(s)

2018 type R 2015 c300

By now many of you have noticed that the fk8 tuned with bolt ons can have large afr fluctuations at higher rpm and boost levels. I am not talking about the catalytic regen issue where the afr command goes 14.7 at wide open throttle. That regen issue is separate and only hondata can correct.
Data logging a lot of you will notice very large afr swings. I've seen swings larger than a full point leaner and richer. Example target at 12.5 and it might swing from 12.5 to 13.5 to 11.5 and back and forth. Sometimes even more. On a dyno it can cause wavy power graph.
This seems to occur at two voltage points in the MAF scaling. One at 4.56 volts which isn't that bad and another at 4.77 and this is much worse. A lot of off the shelf maps hang in this area of airflow at higher rpms. It is not from the intake design and it is not from the Prl turbo inlet as many have suspected. I have tested many different afr ranges and with and without turbo inlet from prl and with or without mishimoto intake and it still occurs. So don't go buying another expensive intake to fix it cause it won't. Only hks intake without the sensor corrector and eventuri will work on stock scaling because they use a larger diameter housing and have a different MAF scaling to run. They do not reach the higher voltage running the bigger diameter MAF housing.
If it is possible to fix this by only changing the values in the MAF scaling I will release it publicly. I also will have another member test it on their car. It shouldn't require large changes enough to effect trims or throw commanded afr off. I am currently running a scale that does seem to be working. The only thing I noticed is if you max out the MAF it runs a little lean above 6600rpm. Hondata stated that would happen a long time ago. So in order to fix this after the MAF scaling proves correct I will add the needed Volumetric efficiency corrections as well.
My goal is to create a MAF scale that does not throw off other values in the ecu. Incorrectly scaling the MAF can actually result in up to 20 bar pressure drops in fuel even though the pump duty cycle is below 88 percent. This happens cause the measured amount of fuel in grams by the MAF sensor can be incorrect and the ecu calculated amount of fuel needed is now wrong.
Although the pressure drop wwas my really hurt the car it could result in some power loss. We aren't talking significant but to me it will not be correct.
Fixing this requires more then just changing one or two values or even just raising it because you can raise it 1 percent above 4.56 volts but the end result is negative trims that fluctuate a lot. It will still lean out a bit above 6500. People running port injection do not have this issue cause the ecu is in serious amount if negative trims. Running upgraded turbo and fuel system with stock diameter MAF housing don't see it as much either because it goes right passed the range where there's an issue. If you add or subtract just one value you then throw off the ecu value differential between the value before or after.
Before you swear your car is special this has been confirmed by over a dozen cars different years and different set ups. Guys running ethanol on stock fuel system don't see the higher MAF voltage as much due to reduced aircharge levels. Guys running methanol are less prone to it. I'm working on both with and without methanol.
Here is a pic of 93 octane tune with afr fluctuations at 4.77 up to 4.94. Also look at blue short term trim line.
Here is another that has at both points but isn't as drastic. This is closer to base map. Again look at short term trim line
Here is a map. Methanol actually reduces the swings by a little bit. Still the short term trim goes up and down
Here is a map someone tried to correct just trying to correct the 4.77 problem area only. . You can see it can go the other direction a full point. You can see right when it goes rich the trims drop.
Here is corrected scaling but with up to a half point leaner at above 6600. You can clearly see a way better mixture control. You can see the blue short term trim line is far smoother also. There are negative trims because this is a methanol long but you can see the afr control is much closer compared to other maps. Yes there are negative trims from methanol but you can see that the short term fuel trims are more inline.
My end goal is to have it that flat to redline but I will need at least one more car with a different set up to test. I'd prefer 2 cars. You can use your current tune but will need to import MAF scaling values and VE correction values. A 91 or 93 octane car stock fuel system stock turbo with at least an intercooler intake and downpipe. I already have some one that can test ethanol.
Those interested please send me a direct message only. I will consider customizing the tune as a thank you for testing.
Testing the values can in no way harm any car. The changes in MAF scaling are literally less than .3percent. That's .003 differential. I do not have current ve values I have just started testing that now. Stock cars or cars with only downpipe will not be able to maintain the volume of airflow in order to test. Eventuri intakes or hks intakes can not be used for testing. A drop in turbo fuel system upgrade car with eventuri intake could have the same issue. I can correct this as well cause once I correct the stock MAF scaling it's just a matter of bring all the values up same percentage .
Thank you to those interested.
Thank to those who already sent me logs to help me verify this is not an intake design issue.
When I make it public I'll post a base map that people can either copy and paste off of or import into their tune.
Last edited: