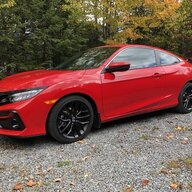 Joined

Mar 3, 2019
Messages
Reaction score

1
Location
Car(s)

2020 Civic Si Coupe

Please can someone help me. As someone with a little OCD I am ready to put the car up for a lease takeover as this issue is driving me nuts!
2020 Civic Si Coupe. All stock, just rolled over on 20,000 kms.
When driving down a straight road on the highway, I have to hold the steering wheel to the left to go straight. If I bring the wheel back to center so that it's straight the car will be going right into the ditch. Have only had the car for a year now and already had probably 5 wheel alignments but it hasn't fixed anything. Two different Honda dealerships telling me it's dead on. Service manager went for a drive and said its normal to be a little to the left due to the tapering of the roads and none are dead center. Well the stupid Honda Fit vehicle they gave me when my vehicle when in for service; it couldn't fit a full size mug in the cup holder, but guess what, the wheel was straight!!!! Awww.
Have had it to local alignment shops as well saying they re-learned the steering sensor and checked the caster and everything is fine, next thing would be to swap the wheels. Well it's the same issue with my new winter tires and rims so that can't be it?
Have to get a MVI tomorrow and they are going to check alignment again but how many times does it take?
Could the steering wheel be an issue? How big of a job is it to change the wheel? I'm considering swapping it with the Type-R wheel for one it's a nicer wheel and I'm really curious to know if changing the wheel will have any effect on the steering wheel being straight.
If anyone has any advice I'm more than happy to hear it, even if you tell me to get a grip and there's bigger things to worry about than a steering wheel.
Thx all!