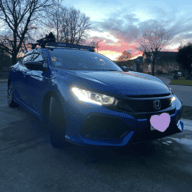 First Name

Ainsley
Joined

Mar 6, 2021
Messages
Reaction score

1
Location
Car(s)

2017 Civic LX Hatch

Hello everyone, new member here.

I recently got my Civic just a few months ago, and I am ready to start adding some "big $$" mods. So far I have done just little stuff, like decals, window visors, side marker exchanges, etc. This Civic being my first car after a couple hand me downs from family members, I want to really make her my own. However, outside of changing the oil, I really don't know much about cars. Everything I've learned has been from my own research in the past few weeks when looking at parts and lurking the forum, so any and all information you folks could offer would be helpful.

What I'm mostly looking for are recommendations on how to make my Civic more of a fun daily driver car with a little bit of noise rumble. I already have a great time on my commutes through hilly Norcal, but I want to throw some money at her for some upgrades. I know I will end up getting at least a few illegal mods, but I want to try to stay CARB compliant wherever possible. So far, I am pretty locked in on:

Mishimoto CAI (or PRL if their CARB Process ever gets finished)
kTuner 1.2 (don't mind flashing back to stock for smog)
Rear Sway Bar - not sure of brand, any recommendations would be appreciated
RV6 Downpipe (not sure if the frontpipe combo is worth it?) - I understand that downpipes are not CARB approved and probably never will be, so will I have to replace it with the stock one for each smog check? I'd be willing to do if the performance and sound gains are substantial enough, any thoughts on this?

I'm also thinking of getting a catback exhaust just for the noise, I know the market is very limited on non-sport Hatch exhaust models. That is going to be further down the line I believe as I shouldn't expect much of a performance gain from that.

Is this a good starting point for a stock civic? Anything I missed?

Thanks a ton everyone! Happy to be a part of the community.