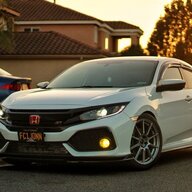 First Name

Ivan Jonn
Joined

Jan 10, 2018
Messages
Reaction score

113
Location
Car(s)

2018 Honda Civic Si

Just ordered the
SPEC Inc. Proprietary Stage 2+ Clutch / Aluminum Single Mass Flywheel Combo
from
@Two Step Performance
! Along with a few other goodies! Also got myself the
PRL Stainless Steel Clutch Line
, along with the
Two Step Performance TSP Flex Fuel Plug-n-Play Kit
with their
TSP Stage 2 Flex Fuel tune
!
Didn't decide to jump the gun out of nowhere though...
Some background for you folks:
2018 Honda Civic Si Sedan in WOP
Purchased in January 2018
Nearing 20,000k miles
Current Performance/Drivability Modifications
MagnaFlow Catback Exhaust w/ Custom Resonator Straight Pipe
PRL Cobra CAI (Street MAF)
KTuner V1.2
TSP Stage 1 Tune
Boomba Short Shift Adapter
Acuity Shift Cable Bushings
Acuity Throttle Pedal Spacer
Clutch Delay Valve Delete
I daily this car, A LOT. Can be seen through the mileage in such little time shown. But who says you can't have fun in your daily? This car is perfect. Fun as a daily, but still manages to get well over 30MPG.
So, why did I jump the gun? Well, the fun has its limits. And by limits I'm talking about that dang stock clutch! Can't hold power for it's own life. It held up pretty well for being beat up for nearly 20,000 miles but it has reached the end of its life. Just a few days ago the clutch suddenly crapped on me and slipped like there was no tomorrow. Just today it has rendered itself toast, as I could barely even move in 1st gear. So sad that I'm unable to drive my car until the new clutch comes in and gets installed... But, this has further pushed me to finally get a new clutch in, and while I'm at it, get the clutch line changed out and get some Flex Fuel in there now that I have a clutch to handle that power! Decided to go with their proprietary kit with the SMF since I'm unsure about the condition of the OEM DMF.
Anyways, I know there isn't much info or reviews about the SPEC clutches right now on our platform so I have gladly decided to make this thread to showcase my journey as this clutch gets installed and how it holds up to daily driving and whatnot. Anyone who reads this, please feel free to ask me questions also and I will do my best to answer them.
I will try to keep the process updated as often as I can so if this is something you're interested in please follow this thread! Really excited to get these new parts in!