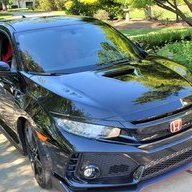 First Name

Jack
Joined

Jun 9, 2019
Messages
Reaction score

41
Location
Car(s)

1989 Porsche 944 turbo S, 1978 Porsche 911SC, 2014 Toyota Tundra

Did two sessions at VIR on Saturday and called a day. The Honda Civic Type R is selling tomorrow... Have a deposit on a fully race-prepped Mini. My mistake - I found out that when I'm on a race track I want to be in a race car. And I'm old and I want the car to tell me what it wants not the other way around... I'll never regret a moment I spent driving it but it just ain't the car for me.
Interesting as I just sold my 89 944 turbo S track car that I had at VIR a bunch of times.
I'm no spring chicken either and loading up the track car and all the stuff to go to the track on my featherlight trailer just got to be too much.
So l sold it all, and bought my 2019 CTR to replace my Tundra and go to the track once in awhile. Of coarse I haven't been yet because of covid 19 What didn't you like about the CTR on the track?? I know someone that did 1,57 at VIR in a slightly modded CTR.......that's insane lap time at VIR!!