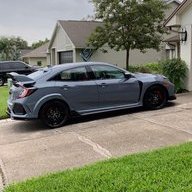 First Name

ray
Joined

Jul 23, 2019
Messages
Reaction score

124
Location
Car(s)

2019 Honda Civic Type R

Anyone else have a problem with flat tires?
My OE Continentals are constantly getting nails,wires, etc., and my Z had Continentals also (Summer tires) and I seldom if ever had flats with those?
I plugged two tires - I know but i didn't run them flat only a few pounds low-I check my tires regularly.

Now, one that was fine for months with a plug is leaking again. I'm sure it's another item in the tire....
So I have decided to get them patched and "un plugged".

What's up with these things? Now I have to find a tire shop with:

1. Correct machine to not damage my rims.
2. Workers that won't use a screwdriver to scrape the weights (and paint) off my rims.
3. A shop with Black tire weights.

What are the odds of all three of these occuring? I tell you 0.

Any recommendations for shops in the Orlando area?