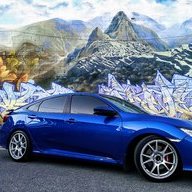 First Name

Humza
Joined

Jul 1, 2017
Messages
Reaction score

1,404
Location
Car(s)

2017 Honda Civic Si Sedan - Aegean Blue Metallic
Build Thread
Vehicle Showcase

I've started taking my Si to the track, having done 3 sessions at the local circuit so far this season, Toronto Motorsports Park (TMP). This track being more technical rather than flowy has brought out an an interesting flaw of the Si that was pinpointed by Dave Pratte from the YouTube channel, Speed Academy. If any of you are Speed Academy fans, Dave and Peter are masters of TMP, building track capable street cars and reviewing all sorts of press cars, fans' rides etc.
Watch the video in full for not only his impressions on my Si, but the Si vs. Type R debate, and more importantly hear how the Si diff is not letting us put the power down and causing understeer.
Dave obviously being more skilled than I am could tell within the first lap that the Si's Helical LSD was locking and unlocking in turns, and not letting him put down the power coming out of turns. I also felt the same on my last two outings in September as I started pushing the car more - in the first outing I didn't have a sway bar so I thought maybe its because the rear is dragging, or maybe it's the tires, but in the second outing after the Whiteline 22mm RSB I still felt the car hesitating so I was lost for an answer other than maybe it's the tires still.
Dave mentioned that the Continental ExtremeContact Sport is a competent tire than can handle light track duty, and he is certain that having a clutch-type diff would eliminate this issue, and free up as much as 2-3 seconds per lap which is huge at this track.
---
So what's the solution?
An article by Grassroots Motorsports posted on Monday states that Honda will sell you a turn-key Si racecar that comes with a Diff developed by HPD and Cusco. Historically HPD parts haven't been available for consumers unless you're in on the racing program.
https://grassrootsmotorsports.com/articles/factory-firecracker-honda-civic-si-race-car/
I've sent an email to TeamM Factory, they make LSD's for the L15B non-Si vehicles, to see if they're doing anything for the Si. Awaiting response.
http://www.teammfactory.com
Does anyone have contacts or aware of any other company that is making or would be interested in developing solutions for the Si? Wavetrac, Quaife, OS Giken etc.