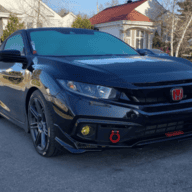 First Name

Yanick
Joined

Jul 23, 2020
Messages
Reaction score

24
Location
Car(s)

2020 Civic Coupe Sport
Vehicle Showcase

Hey guys!
Like the title says my engine compartment is bone stock and i'd like to see what some of you guys have done under there to spice things up a little aesthetically speaking or maybe even performance/quick tips or pro tips etc. what should i do? i need ideas...
I was thinking like a new oil cap for example like one of those things...but i don,t even know if it'll screw in there etc.
i want to see what you guys have done like maybe painting some stuff in red and finding a way to get some hose and stuff etc....change the earth dream badge for a iVtec or Mugen badge of some sort etc.
I think this plastic cover should be easy to wrap and install decals on it or something etc.
Just for a look you know
I know this is by know means a ''performance'' engine, but it doesn't mean it should look ugly IMHO. And it still sound nice and pull fairly in trafic.
Hope to see some nicely dressed up under bonnet soon!
See ya!
Last edited: