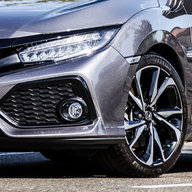 First Name

Brandon
Joined

Jan 15, 2018
Messages
Reaction score

298
Location
Car(s)

1999 Honda Civic EX, 2019 Honda Civic Si

So what is the idea behind how to shift when the revs hang? Is it just an annoyance of sound, or do you have to pause for a moment before putting your foot on the clutch pedal... or do you have to do the whole shifting process more slowly?

I guess I just don't know what it means to have rev hang and how I am supposed to go about shifting with it. Over time I will likely disable it with a KTuner, but until then I'm curious what the go-to way is to shift until then.

I just don't know if I like the idea of having a moment where I'm in gear ready to shift and then fall off the gas pedal completely while the engine brake resists me before I push in the clutch. I suppose if I stay in low RPM's then that won't be an issue, but I'm not quite sure what the overarching goal is when having rev hang and needing to manually shift.

Thanks for any who can help. By the way I don't have this car yet, but upon test-driving it twice, watching YouTubers and listening to everybody here, I thought I'd give this question a whirl before I'm an official owner of one.