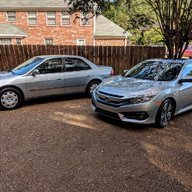 First Name

Jason
Joined

Sep 19, 2018
Messages
Reaction score

26
Location
Car(s)

2017 Honda Civic EX-T, 2000 Honda Accord Manual LX

I've been debating getting a ktuner for the past two years. Honestly, the only reason I haven't done it is I'm afraid....simple as that. I swear, I was getting close to pulling the trigger this week and then saw a guy in the main forum here mention blowing his turbo on a fairly conservative tune from ktuner.

I know ktuner is very active on this board, but I didn't see them comment on his post. Was wondering what you guys thought? Is this a fluke or something I need to be concerned with?

My civic is my daily driver. Not looking to drag race....was just going to tune to get a little more pep out of the car and make it more fun to drive to work every day....but not at the risk of blowing my engine and voiding my warranty.

Unfounded fears? Or should anyone that tunes (even conservatively) be prepared to trash their engine?