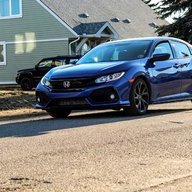 First Name

Ben
Joined

Mar 20, 2019
Messages
Reaction score

78
Location
Car(s)

2019 Civic HB Sport 6MT

for me it would be more to not give money to china who is currently destryoing the world than to pay more for quality products. IMO, PRL and 27WON would be for those who will be modifying their turbo at one point, where the REV9 and others are for those who don't plan on heavy mods or tracking the car a lot.
Myself I'll still go for PRL or 27 WON because made in America and not China, I'll save up a bit longer that's it. There isn't a way to currently not buy anything made in china as with their way of doing business they ensured we have to for a lot of stuff.

Sorry for the tangeant and I'm not judging anyone who does buy cheap chinese parts, that's your choice, not mine.