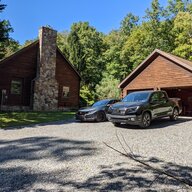 Joined

Sep 17, 2017
Messages
Reaction score

635
Location
Car(s)

2018 Civic Type R & 2020 Ridgeline BE

I am posting this in the fk8 since mine is an fk8 and I don't know if it will work on any other civic (though I'd imagine it would be the same for the si's). Mods feel free to move to a more appropriate spot
I searched around for a thread like this but didn't find one, so I'll add mine. I wanted to install some laminex film on my fog lights but I didn't want to add the film with the fog lights on the car. First, I needed to take the front grills off to get to the fog light mounts. This was a bit tricky as I found a video where someone was fishing their fingers through the side air dam and pushing from the inside out but the shot cuts before the grill starts to come out and the next shot is the grill completely removed. I attempted to fish blindly and start pushing from the backside outward but the grill was bowing and not unsnapping so I chickened out before something broke.
Mind you, I refused to take the bumper off so I had to figure out how to pop the grill out without breaking it. I knew there were some tip of clip fasteners and a pop clip on the inside but I couldnt figure out the orientation of the clips to know how to push the clips. I got a telescopic mirror and some light from the bottom and studied the back clips and devised my plan.
The key here is where to start and it seems like the top outer corner is the best starting place.
You have to be careful because there are 3 tabs that fit into 3 slots in a channel around the grill opening. The tabs are under a bit of tension and will want to "snap" outward once you start pulling and when they snap, the rough cast seam will likely scratch the paint. What I did (mostly successfully) was put a finger on each and was pressing towards the center as I pulled the outer side out.
It begins to unsnap fairly easily so once you have it mostly out from the outside edge, you are home free. Until you have it pulled free though, you will have those tabs wanting to run on the front paint which would be bad.
I placed a cheap microfiber towel in between the tabs and your bumper.
From here, you just keep moving toward the center unsnapping as you move. Once you get to the center, you should have enough of an opening to stick your arm in to undo the pop clip (which is the last fastener) holding the grill on.
Hopefully this helps someone in taking these jokers off without taking the bumper off.
Last edited: