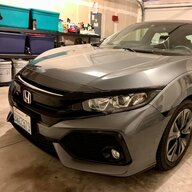 Joined

Feb 20, 2021
Messages
Reaction score

7
Location
Car(s)

2017 Honda Civic Hatchback EX, 2003 Honda Civic

First actual post here! I have some random questions I haven't yet figured out.

1. I bought my car from CarMax and they put a decal above the Civic badge. What's the safest way to remove it?

2. I found installation videos for LEDs on the interior, but couldn't find anything on the light in the hatchback area. Can't seem to get it off. How do I remove the plastic plate?

3. I got some vinyl tape for my chrome delete with a little cutting and tucking kit. Is a hair dryer/heat gun absolutely necessary? I was just going to wing it but wasn't sure how 'recommended' that would be, as I don't have either and would have to purchase one for this task

4. They have some rear side window louvres on Amazon I've been eyeing. They don't seem to come up much on here. (I'd link them but not sure if amazon links are allowed). What are the thoughts on these?

5. Is there a good type of netting or something that someone would recommend for the hatchback area? Something for, say, keeping groceries from sliding around and whatnot

6. I'd like to modify my center console but not sure what I'd need. It's a bit deep and I'd like to add like a shelf or something extra in there.


There's some other questions I'm sure I'll remember another time, but these are what I can remember right now.