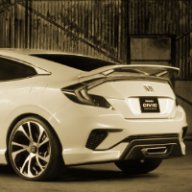 Joined

Apr 15, 2015
Threads
Messages
Reaction score

73
Location
Website
Vehicle(s)

1988 CRX Si, 2015 Civic Si

1) Regardless of if Honda makes an SI hatchback or not, the Hatchback will be more expensive than the Sedan/Coupe. Every automaker who makes both sedans and hatch variants of the same model does this. The hatch is considered roomier and more "premium." From the Versa/Versa Note, Fiesta/Fiesta Hatch, Focus/Focus Hatch, Elantra/ElantraGT, Forte/Forte5 and on up. Hatches always cost more. A Golf has ALWAYS cost more than the Jetta, at least in recent generations.

So we already know to expect to pay more for any hatch variant, rather its produced in Europe, the US or Mexico. You can bet if Honda brings over the "City" it will be cheaper than the Fit is as well. That's just how the market works...and that's why it makes sense that Honda is producing the Civic Hatch in Europe.

Also, Honda is utilizing the Euro plant for one very specific reason...to fill production capacity. The current Euro models do not sell well, so Honda going to max out production there by selling the next generation hatch in more markets to keep it going. Considering 45 percent of the Focus's sales are hatch models..and a good chunk of those are ST models, Honda would be foolish to ignore the market.

2) Shipping engines across the pond might seem very expensive but it's very duable. My Fusion, for example, was produced in Mexico but its engine, the 1.6t , was produced in Romania. They shipped them right on over to Mexico and to the US too, as some Fusions are built in Michigan.

Besides, if the Civic Hatchback is coming to the states, Honda is going to be selling various trim levels, models and engine choices. I'd wager that the 1.5t will most definitely be available for us as well as in Europe. I question rather they will do the 2.0 base engine though, since it probably would not be a big seller in Europe, but it could be a good seller in the US. Ditto the SI's engine. If it turns out the SI gets a high-po 1.5t, no doubt we'll see an SI hatch, if its a 2.0t, we still stand a very good chance of seeing it. Honda will have to import all those powerplants over to Europe regardless, right? So it's not going to make that much of a difference in the grand scheme of things.

3) Also, in the "pocket rocket" class that the new Civic will be competing with, two of the best rated vehicles in that class are hatches....the Golf GTI and Focus ST. Honda has done well having the SI in sedan and coupe form...but it would be kinda stupid of them to ignore the body type most folks in that class by...a hatchback. And besides the ORIGINAL Civic SI was a hatchback anyway and the only reason we haven't seen more hatchback Civics is because Honda refused to sell any of them after the terrible Gen 7.
1) I was talking specifically about the Si, as that is what was asked about originally.
2) I didn't say it wasn't doable, I said it would cost more. The post I was replying to made mention that it wouldn't cost more to offer an Si in every body type. Do you work for Honda? If so, please tell us everything about the hatch, but if that's not the case, I'll wait to hear from official sources that there will be multiple trim levels, models, and engine choices.
3) I'm well aware of Si history, but the original was also a three-door hatch, not a five-door. My guess is that Honda stopped selling the hatchback because consumers didn't buy enough of them, not because the 7th-generation was "terrible".