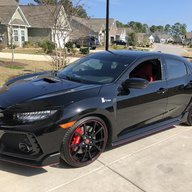 First Name

John
Joined

Mar 6, 2019
Threads
Messages
Reaction score

264
Location
Car(s)

2018 type R 2015 c300

So I calculated with the fk8 type r Injector duty cycle vs total injector output the a 250 cc meth injector would yield about ten percent meth injector vs Direct injection fuel output. The question I have is it supposed to be a 50/50 water mix to achieve ten percent mix or are you supposed to double it so total methanol lbs fuel is ten percent. 50/50 total equals a 250cv jet but using ten percent meth vs fuel not calculating water is 500cc. I calculated fuel at WOT total injector output is a bit over 2500cc if fuel. The reason I'm not going by estimated whp is cause direct injection doesn't use the same amount of fuel vs port.

Second question is what do most people get power wise out of meth stock turbo. I've already managed over 375whp before I updated to my most recent tune which is more but no exact number. I can't imagine pushing the stock turbo much harder.

I'm I am experienced in tuning using ethanol, high octane and pump gas but never tuned for meth. It's not that I can't it's just that I haven't before.

thanks for those who reply. Please actual experience would be preferable as anyone can look up forums and spit numbers out.